Vietnamese meat and crab soup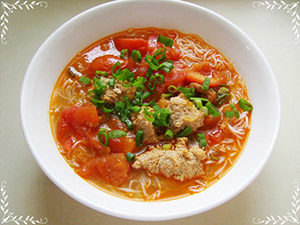 Ingredients
1 kg – Mud crabs
1 kg – Pork bones
50 g – Dried shrimps
1/2 teaspoon – Salt, or to taste
1 tablespoon – Cooking oil
3 cloves – Garlic, peeled and crushed
2 – Large tomatoes, each cut into wedges
1 – tablespoon Annatto seed oil
2 – pieces Firm bean curd, cut into small cubes and fried
1 – tablespoon Tamarind pulp
1 – teaspoon Sugar
2 – tablespoon Fish sauce
1 – tablespoon Fine shrimp paste
1 – kg Fresh rice vermicelli
For garnishing
1 – Spring onion, chopped
1 – sprig Coriander (cilantro) leaves
1 – Banana but, outer layers removed, yellow centre shredded
1 – Red chili, thingly sliced
50g – Bean sprouts
2-3 – sprigs Mint leaves
2-3 – leaves Thai parsley leaves
2 – Limes, cut into wedges
2 – Fermented anchovy paste
Method :
– Pound crabs with some salt then mix with 2 liters water.
– Strain to get liquid then stir residue into another 2 liters water. Strain once more and discard residue.
– Pour strained water into a large pot. Add pork bones and dried shrimps.
– Bring to the boil and add salt to taste. Leave to boil for 1 hour 20 minutes then strain stock.
– Heat oil in a pan and stir fry garlic and tomatoes. Combine with annatto seed oil and pout into stock.
– Add fried bean curd and tamarind pulp. Season with sugar, fish sauce, shrimp paste and salt.
– Divide rice vermicelli equally into 6 serving bowls.
– Pour stock over and garnish with spring onion.
– Serve remaining garnishes on the side.